2021 Registrations now open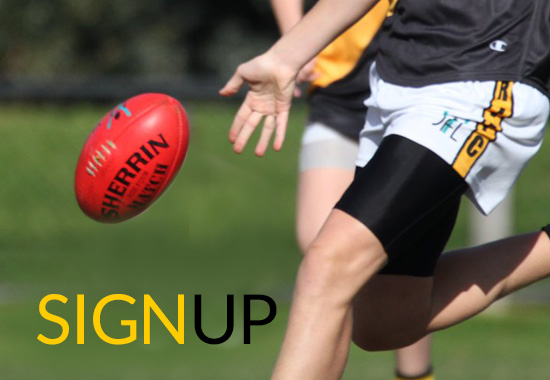 After a frustrating 2020, registrations are now open for the 2021 season!
Please note:
Registrations are now open with priority for returning players.
The season starts on Sunday 18 April 2021, with full season dates on our Calendar.
We encourage you to please register as soon as possible to ensure your child gets a spot.
Please see our policies for further information on team selection and player rostering.
In 2021, there are some changes in the YJFL, with a new Under 16 boys competition, and the Colts' age group moving out by a year – check which age level is relevant to your child.
The YJFL payment system requires full payment prior to the registration being complete – refer below for full details of the 2021 fee structure, including credits from the YJFL for players who registered for sesason 2020.
Note that some teams are already full – including Under 15 boys and Under 16 boys.
For Under 13 boys, please contact the Registrar to express interest in this age group.
To stay in touch with what's going on around the club, keep an eye on our website, subscribe to the weekly email and follow @richmondjfc on Facebook, Instagram or Twitter. In general, don't hesitate to contact the Registrar if you have any questions or concerns.
Here is a step by step guide to registering your place at RJFC for the 2021 season:
STEP
ACTION
HELP !
1
Click on the link below:

This will take you to Sporting Pulse, the Yarra Junior Football League's online registration system.

Should you need some assistance, or if any details require an update in the system, please contact the RJFC

Registrar:
registrar@richmondjfc.com.au

2.
Confirm which grade your players will be eligible for in 2021

Complete the online registration form. Note that payment is now required at this stage to complete the registration.

3.
Get ready for a great 2021 Season !
Registration fees
Once again, RJFC has made no change to registration fees, continuing to subsidise cost increases over recent years to lessen the burden on families.
For 2021, the registration fee will be $305.00 per player, consisting of:
$177.45 – YJFL fee (team entry Fees, insurance, umpires and first aid)
$5.00 – SportsTG registration fee
$122.55 – RJFC club fee
Credit from 2020
For players who were registered in 2020, the YJFL will apply a credit of $77.45 as per their advice from September 2020.
This credit will be automatically applied as a discount during the online registration process, bringing the cost down to $227.55.
RJFC club fee
The club fee includes the per player contribution to the "pink round" each year in support of the Breast Cancer Network Australia (BCNA), when pink socks are provided for all players
It also covers the overall running costs of the club including jumpers, training and game day footballs, training equipment, team kits, preseason and season ground rental and light use, coaching training programs, awards and presentation day, and administration and expenses needed to keep well over 500 kids playing footy.
The club offers discounted fees for families with 3 or more players at the club – fees for the 3rd sibling are $190, then 4th or further siblings are free. If you are registering 3 or more players, please contact the registrar before completing their registrations.
Please note: Online transactions for the club incur fees and charges that are unable to be refunded should a refund be requested / agreed.
New players – we are all recruiters
As always, we encourage all existing players to talk with school friends, neighbours, relatives, etc… and encourage them to join the mighty Tigers. At RJFC we aim to field as many teams as possible to ensure all local boys and girls remain in competitive sport. If you know of someone who might like a kick, please refer them to the website for registration details and just invite them along to summer squad sessions or training!
Should you have any questions about the coming season, please feel free to contact any of the RJFC committee members and we will arrange for a quick response.
Please see our policies for further information on team selection and player rostering.
Go Tigers!